Chinese Language for the Elites by the Elites
Chinese language and cultural advisory provider to professionals and companies across Asia
Group Class
Our Public Group class teach Conversational Chinese that is suitable for complete Beginners and go all the way to Advanced level. The focus for Beginners is mostly on Speaking only. Over the years, we have developed a structured & systematic curriculum that is proven effective & practical.
Corporate Class
We aim to be your business partner in Chinese language and culture. Besides language, our highly experienced trainers with relevant industry knowledge will also provide cultural advisory to corporates that work with us. Our course will help you strengthen your team's Chinese proficiency in the business context.
Google & Facebook Reviews
I have really enjoyed learning in Elite. The teachers are professional and makes the learning exciting! :)

June Chung


best class ever.. Lao shi Chen is the best

Muhyiddeen Adr


My teacher was engaging and professional and most enthusiastic. It made my learning more enjoyable and productive. Highly recommend this school.

Alan Jones

"千里之行始于足下"

"A journey of a thousand miles begins with a single step"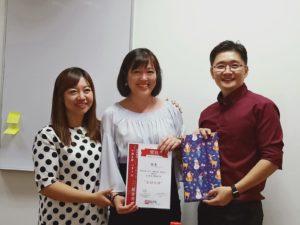 Congratulations to Ms Marina Zhang for being awarded "互动女神" (The Queen of Interaction) for her outstanding work in interacting and engaging our students, online and offline. She also consistently achieved ...
Read More